The East York Barbershoppers (EYBS) are a 40+ man chorus that sings close four part harmony in the barbershop style. We rehearse weekly, perform in shows and at community events regularly, and compete annually against other barbershop choruses from all across Ontario (and on occasion Internationally). Our members come from all walks of life and all across Toronto, and even from outside the GTA, but are brought together by a passion for this great hobby of barbershop singing. We also take great pride in serving our community through music education, outreach performances, and direct support for affiliated charitable organizations such as Harmony Hall Centre for Seniors and Harmonize for Speech.


Hear us sing:
Convention Flashback
Posted On: Apr 17, 2020
The East York Barbershoppers had been looking forward to a couple of days of fun and singing at the Spring Convention this weekend, not to mention celebrating the end of our tenure as Ontario District Chorus Champions, but given the state of the world it was clear weeks ago that this was not going to come to pass.
Like a lot of other choruses around the world, we've moved a lot of our activities virtual with the help of technology - keeping socially connected even in the midst of social distancing.
In lieu of singing away our championship and gathering with wonderful barbershoppers and their families, we'll have to settle for going down memory lane with our winning performance from last year. We hope you enjoy it.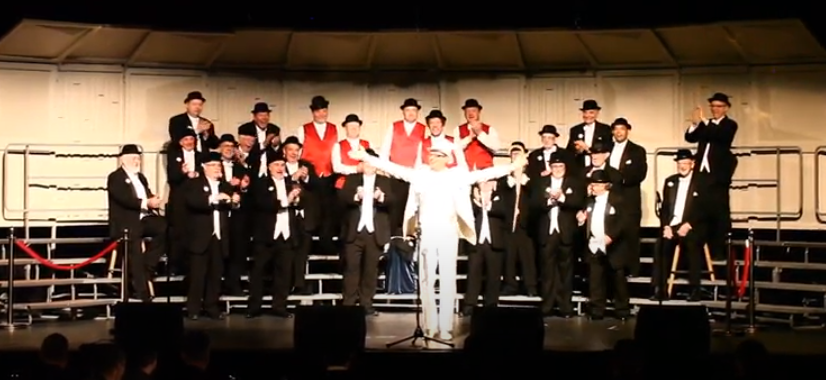 Link: https://youtu.be/uTNfBm-Y9UI
Keep safe, keep healthy, keep singing!
Your friends at EYBS
Practice Resumes Online!
Posted On: Apr 7, 2020
We are still practicing physical distancing in Toronto for the forseeable future, but that's not going to stop us from singing! Thanks to the power of technology and resourceful examples from other choirs and barbershoppers, we've managed to complete our first group practice session online!
Despite some initial technical hurdles, with a lot of help from our chorus members, practice went swimmingly after the issues were resolved.
Big thanks to Pat for leading us through practice online; Barry Tripp for providing with the Zoom conferencing; and everyone who managed to show up and participate!
Until further notice, all Tuesday night practice sessions will be hosted over Zoom.