The East York Barbershoppers (EYBS) are a 40+ man chorus that sings close four part harmony in the barbershop style. We rehearse weekly, perform in shows and at community events regularly, and compete annually against other barbershop choruses from all across Ontario (and on occasion Internationally). Our members come from all walks of life and all across Toronto, and even from outside the GTA, but are brought together by a passion for this great hobby of barbershop singing. We also take great pride in serving our community through music education, outreach performances, and direct support for affiliated charitable organizations such as Harmony Hall Centre for Seniors and Harmonize for Speech.


Hear us sing:
Practice Cancellations (COVID-19)
Posted On: Mar 13, 2020
As you may have noticed recently, COVID-19 has been declared a pandemic by the WHO.
The health and well being of our members and guests are top priority.
We will be following actions similar to other organizations around the city, and cancelling rehearsals for the following dates: March 17, 24, and 31.
We will be monitoring the news and official recommendations as we approach April 5th, and additional communications will be made closer to that date.
Keep informed - here's a link to the City of Toronto's COVID-19 fact sheet, with recommendations on what can be done: https://www.toronto.ca/community-people/health-wellness-care/diseases-medications-vaccines/coronavirus/
Stay viligant, stay calm, and we'll look forward to getting back to singing when this passes.
52nd Annual Live Auction Sale (Postponed)
Posted On: Feb 5, 2020
Update: Unfortunately due to the ongoing situation with the COVID-19 pandemic we will be postponing the Auction to a later date this year. We will update this post as the situation evolves.
-----------------------------------
Come one, come all!
Mark your calendars for our 52nd Annual Live Auction Sale, set for Friday, May 8th at Harmony Hall.
See what curious bargains we have for auction, help support the Chapter and our designated charities, and enjoy a fun night with our auctioneer, Matt Penstone!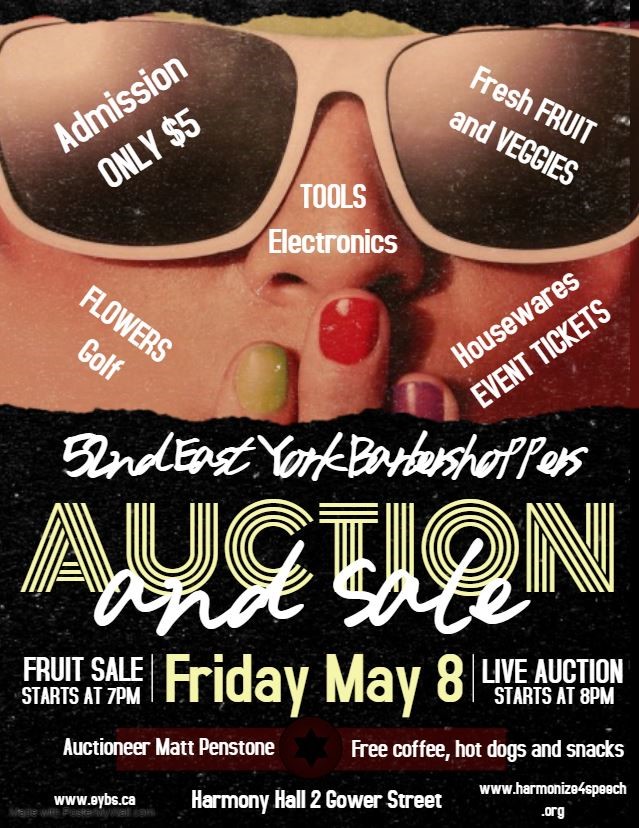 Upcoming Events
Harmony Hall, Friday, May 8th, 2020
EYBS in Action