The East York Barbershoppers (EYBS) are a 40+ man chorus that sings close four part harmony in the barbershop style. We rehearse weekly, perform in shows and at community events regularly, and compete annually against other barbershop choruses from all across Ontario (and on occasion Internationally). Our members come from all walks of life and all across Toronto, and even from outside the GTA, but are brought together by a passion for this great hobby of barbershop singing. We also take great pride in serving our community through music education, outreach performances, and direct support for affiliated charitable organizations such as Harmony Hall Centre for Seniors and Harmonize for Speech.


Hear us sing:
Performance Judge Review
Posted On: Nov 18, 2020
Last night East York took advantage of a program put on by the Barbershop Harmony Society to have a judge spend an evening with us on-line to provide insights on a performance of our choice submitted in advance. We were really fortunate to have a fantastic Performance Judge join us, Michael Kelly, and as a bonus he was supported by another prospective Performance Judge, Drew Ochoa. Michael and Drew had reviewed multiple recordings we submitted, but ended up focussing on Cabaret, from our winning performance in the Ontario District Chorus Contest in Spring 2019. Michael and Drew spent almost two hours walking us through this one performance, pausing regularly to talk us through what was happening in the "mind of a performance judge" as the song progressed. This was an amazing experience, and we all walked away with a much better understanding of how we can approach presentation moving forward, not just with Cabaret but any of our songs!! Thanks to both Michael and Drew for sharing their time and expertise.
Joint Meeting with the City of Lakes Chorus
Posted On: Oct 14, 2020
It's been more than six months of virtual practice at East York Barbershoppers (EYBS), and we've spiced it up this week with a joint virtual meeting with the City of Lakes Chorus (COLC) from Darthmouth, Nova Scotia!
About 37 members in total joined the meeting. The presidents of each chapter began with a welcome and brief introductions. Members from each chorus shared the history of their respective choruses and some of the traditional activites that couldn't take place this year because of the pandemic. It was helpful to share our struggles with each other, and join in the hope that things would improve in the near future - after all, without the pandemic, it was unlikely that our two choruses would ever meet, even if virtually.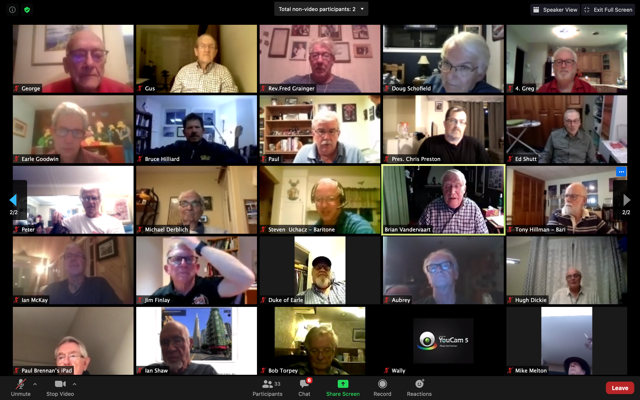 Both choruses shared videos of performances and contests from the past. Our International Chorus Contests and TV appearances were an eye opener for many of the newer members of the EYBS chorus. EYBS's proximity to many chapters in Ontario as well as the States made it easier to participate in District events; COLC found it more difficult due to the geographical size of the North East District.