EYBS Blog
EYBS Holiday Party 2022
Posted On: Dec 10, 2022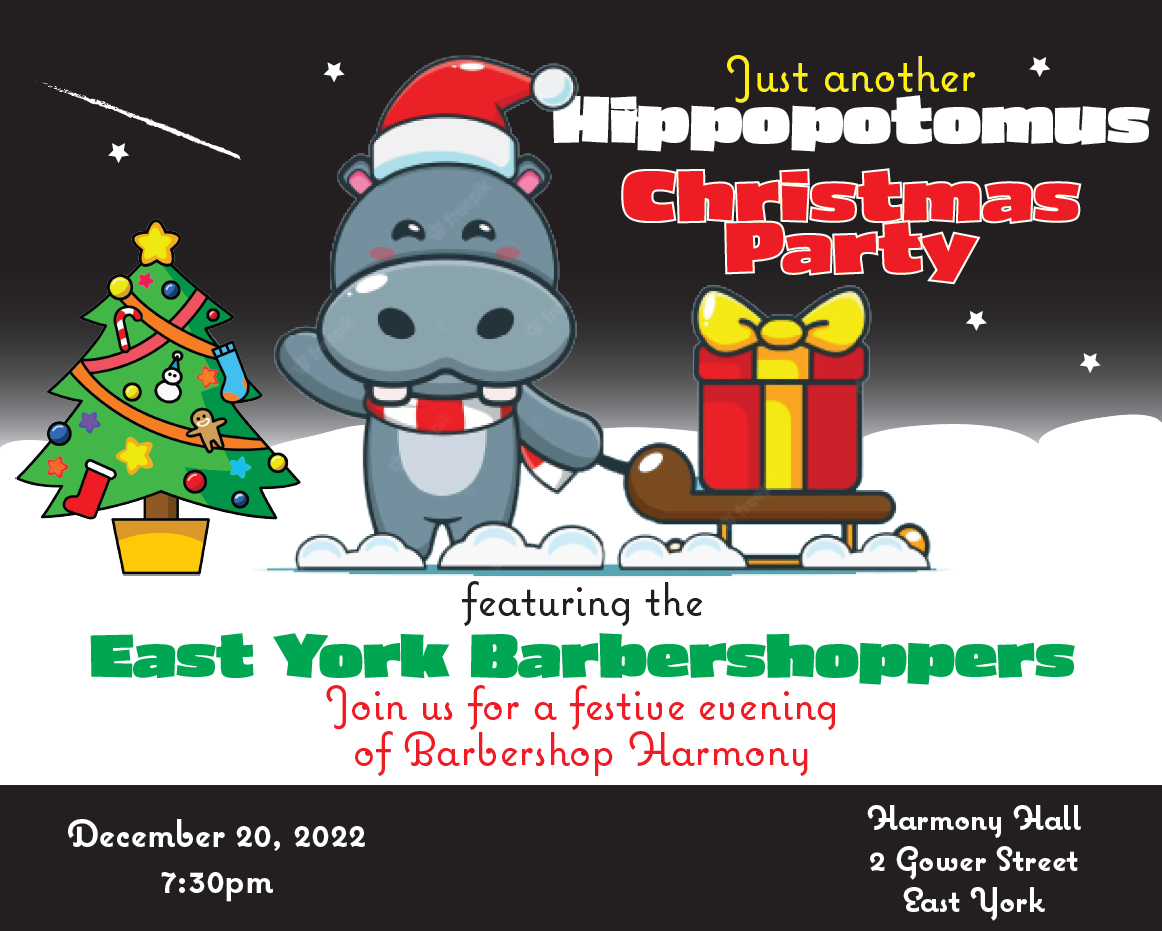 Sing out at the Sumach!
Posted On: Sep 21, 2022
The East York Barbershoppers are finally singing for a live audience once more! Everyone in the chorus is excited and grateful for our first public performance since the pandemic.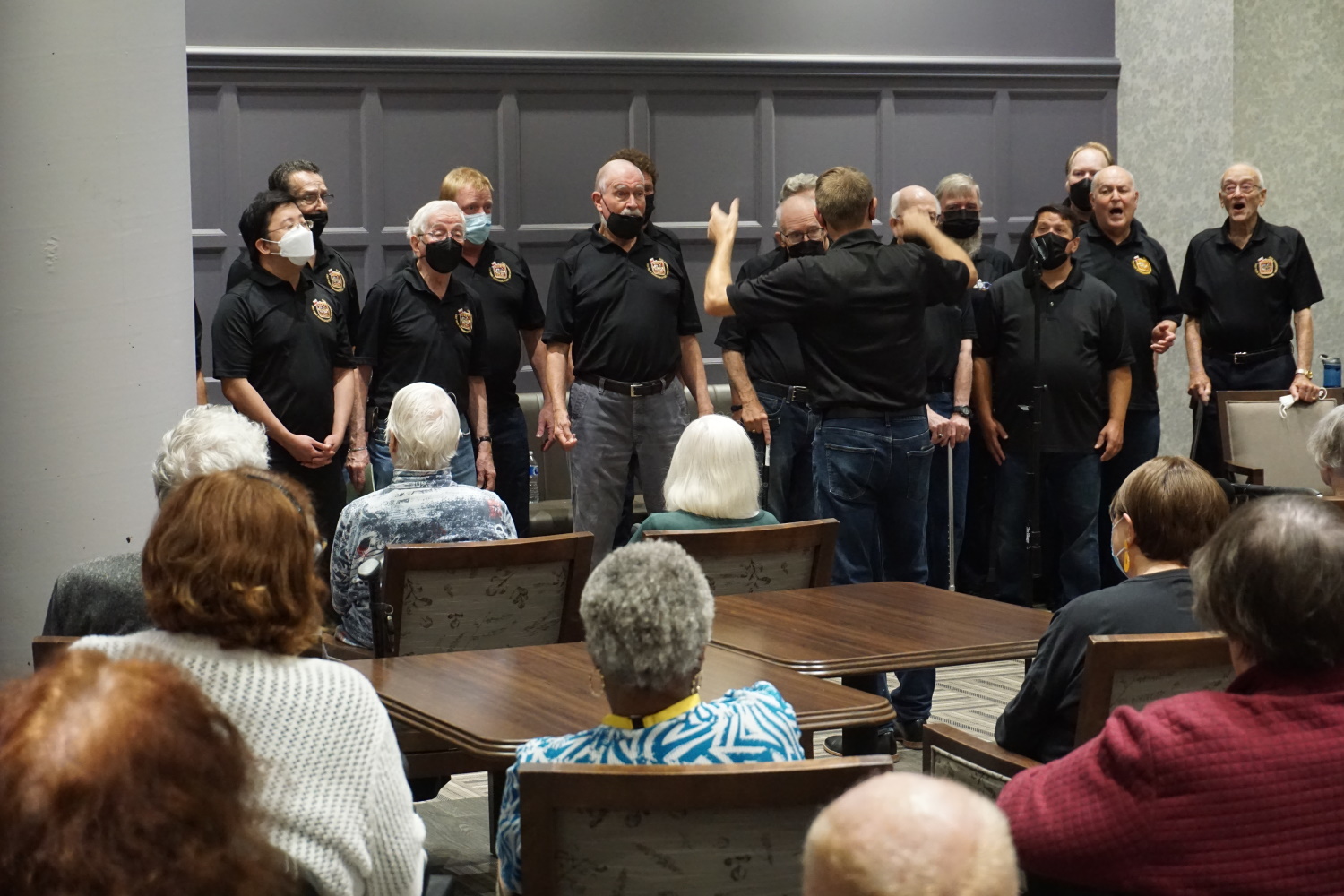 After years of dealing with lockdowns, with quarantine isolations, with an underlying sense of unease... It's so great to be able to bring joy and smiles to people's faces in these trying times.
Many thanks to the kind folks at the Sumach for hosting us and our friends. We were joined by a couple of quartets: Three Notes and a Rest and Constructive Criticism, and boy did they put out some banger performances.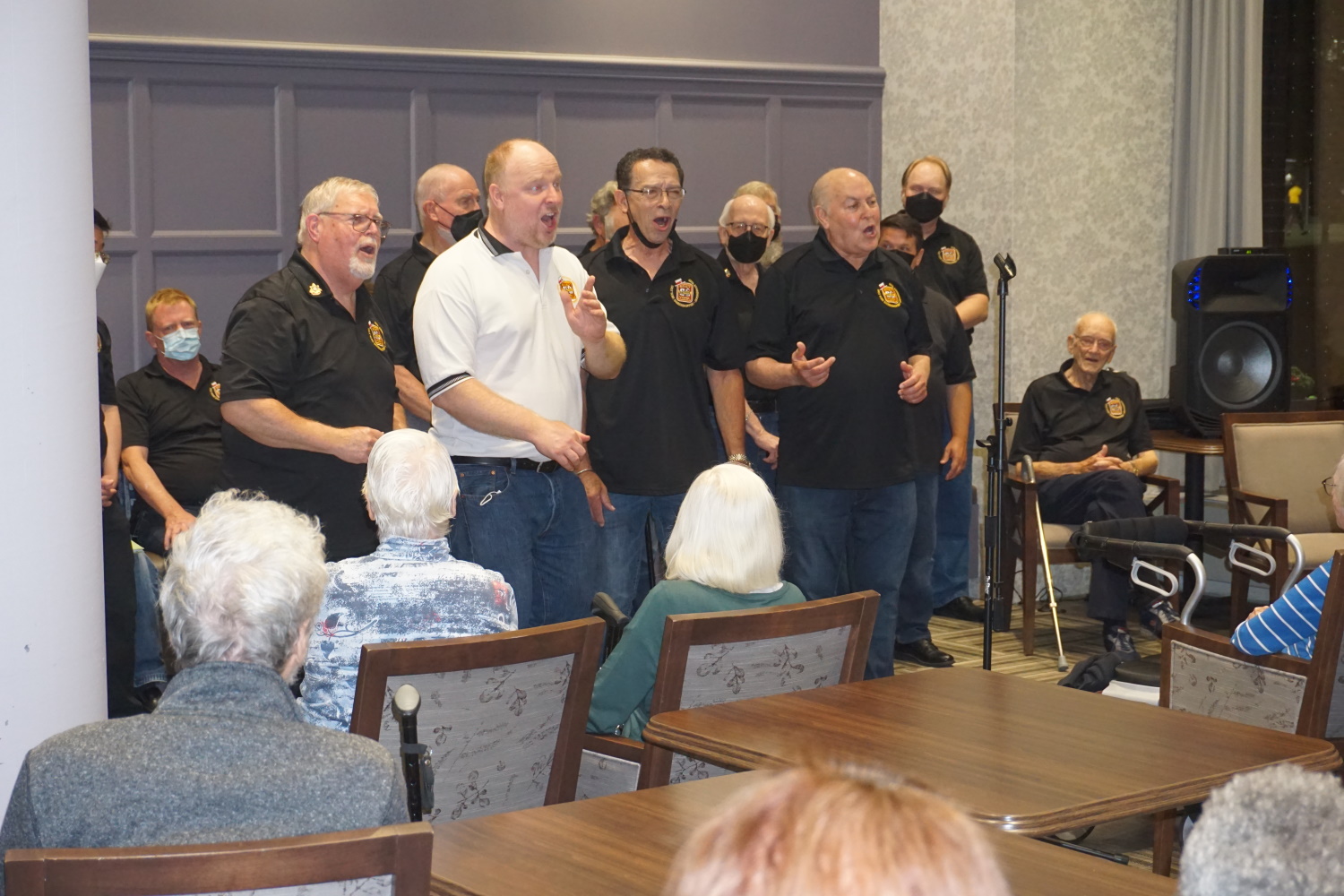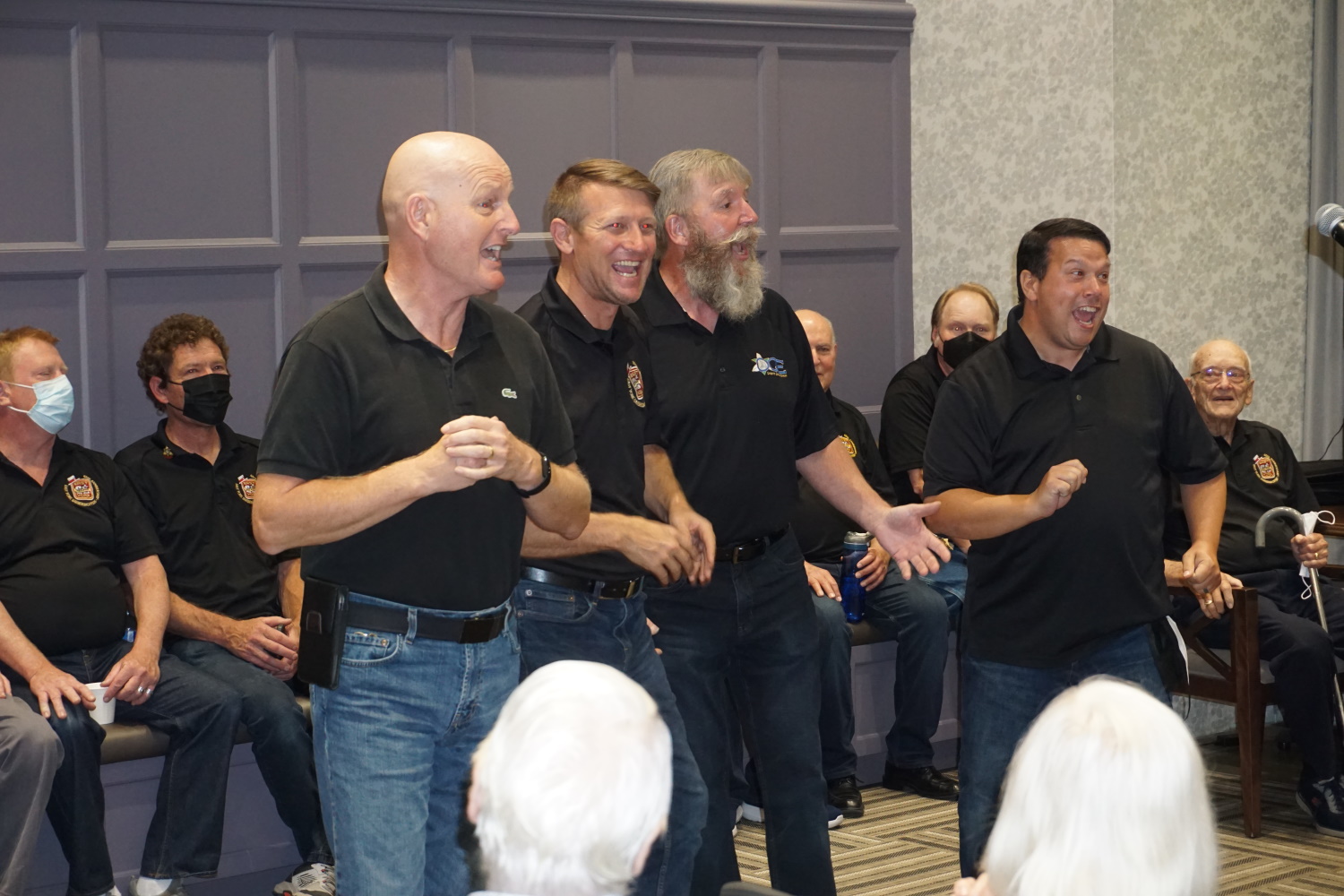 All in all, we had a fantastic time, and here's to more performances in the future!
Barbershopper of the Year
Posted On: Jan 18, 2022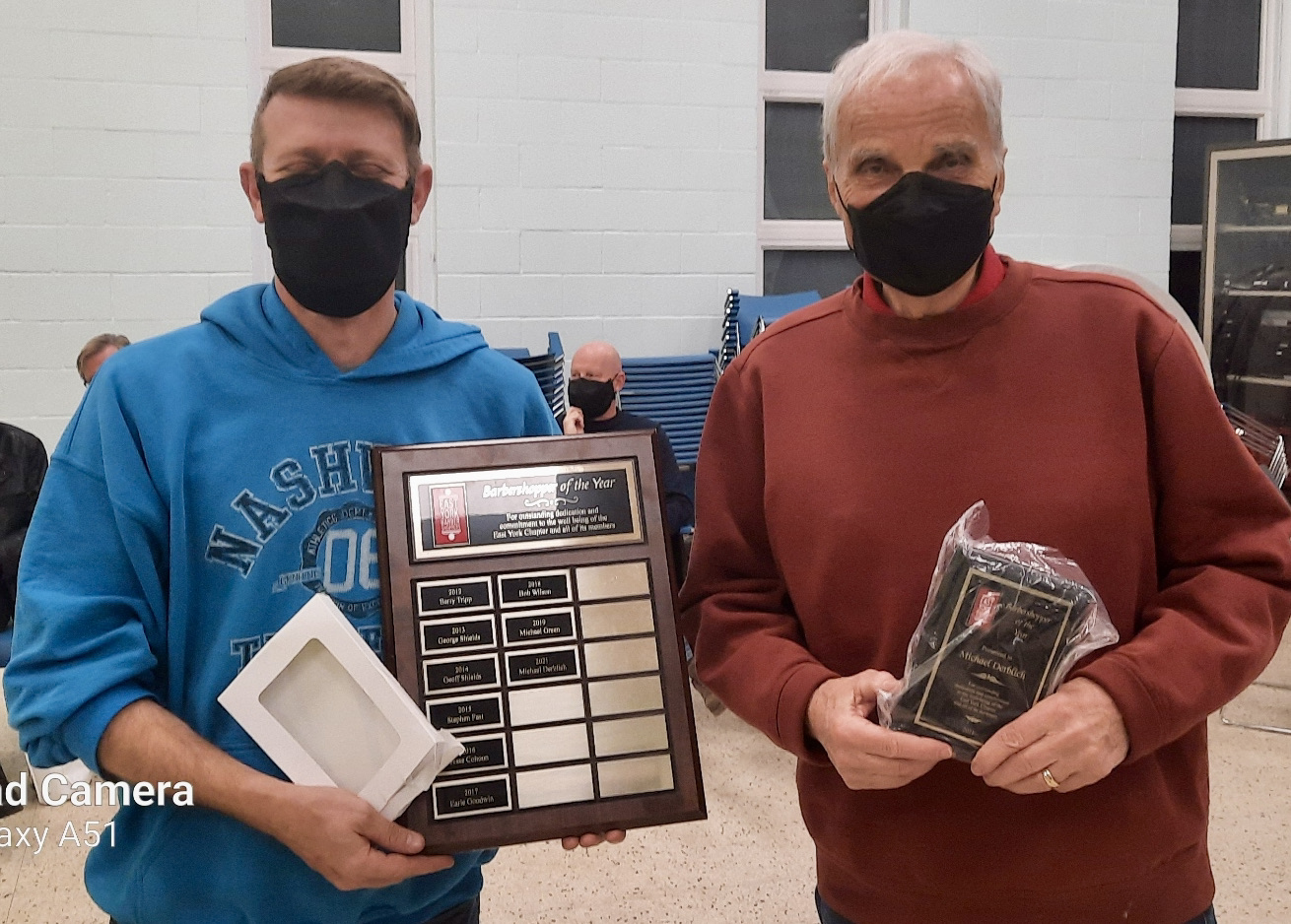 In a year somewhat lacking in bright spots, there was one that shone through in the form of our Chapter Secretary, Michael Derblich.
Mike never seems to lose his cheery disposition, and his wry sense of humour is very welcome at our meetings. As Secretary his duties never ease up, whether we're meeting virtually, in cars or in person. He even makes it pleasant to be chased down for our dues and takes the time to prepare a personalized presentation when he delivers our membership cards. In addition to those duties, he selflessly lends his creativity and artistic skills to the graphics for any project that comes along.
It was a pleasure to see that the membership noticed his ongoing and important contributions and voted to honour him with the Barbershopper of the Year for 2021 award.
A CARvellous Evening
Posted On: Jul 6, 2021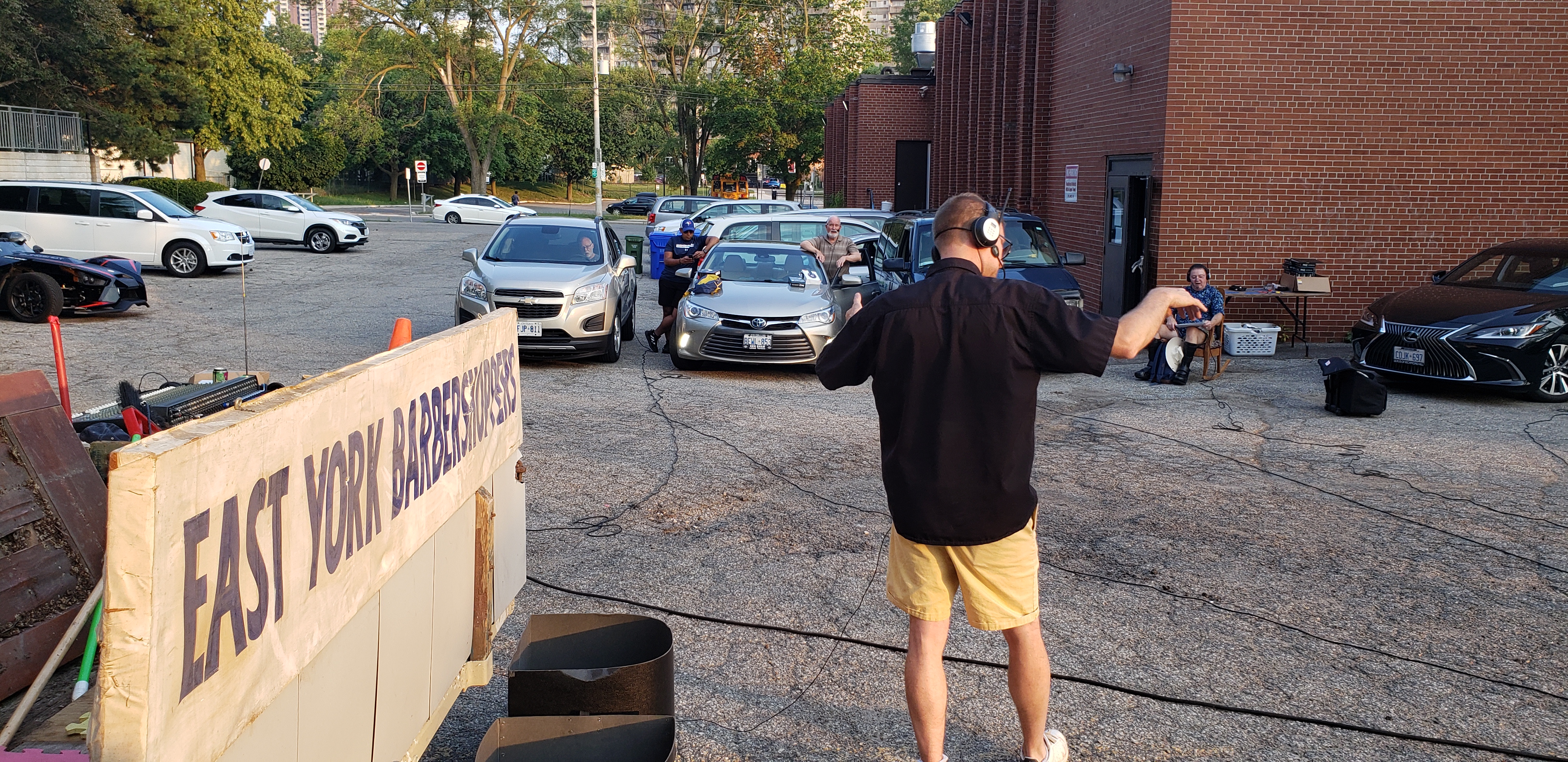 Photo - Barry Tripp
After 16 months away from being able to sing together, East York Barbershoppers finally got to ring chords together on July 6. While COVID-19 regulations wouldn't allow us back in our regular rehearsal space, thanks to the hard work and technical prowess of Michael Green and Barry Tripp, we were able to enter the world of what we affectionately call Carbershop – singing barbershop in our cars.
Though we haven't been singing together since March 2019, we have been getting together and singing via Zoom when it became apparent that the shutdown was going to be a long-term reality. Zoom rehearsals gave us the opportunity to keep in touch with one another and keep our voices in shape, but its technical limitations wouldn't allow us to hear how we actually sounded together.
Carbershop remedied this by getting rid of the lag that various hops between internet servers introduce while allowing us to maintain social distancing. We gathered in our hall's parking lot and plugged microphones into our new mixing board. No Bluetooth. No WiFi. Actual physical cables. The mixed signal was broadcast by a small FM transmitter which we tuned to on our car radios or on FM headsets. Any delay was small enough to be imperceptible. And because we were listening to a mixed signal, we may even have heard the other voice parts better than we normally do.
As hard as the singing drought was on the membership, it was torture for our director who had to completely rework his instruction methods without the benefit of being able to hear the results. So it was only fitting that our first Carbershop session took place on Pat Hannon's birthday. In his words, "Best birthday present, ever!" And everyone who attended enjoyed it as much as he did.
Bill 'Buddy' O'Hara Obituary
Posted On: Feb 9, 2021
This Is Your Voice by John Colapinto
Posted On: Feb 9, 2021
CBC Sunday Magazine - An interview with Canadian Journalist, John Colapinto with host, Piya Chattopadhyay. The power and mystery of the human voice. Scroll down to listen the recorded interview from Sunday Feb 7. In the interview I learned that Piya is a classically trained singer. This special attribute with Broadcasters is not uncommon.
Check out John's new book, "This Is The Voice" on Amazon.ca.
I bought the book and have justed started reading.
Barry Tripp
Singer Tony Bennett's Battle With Alzheimer's
Posted On: Feb 9, 2021
Canadian Journalist John Colapinto speaks with Tony Bennett about what was a family secret for the last 4 years. Tony's amazing song repertoire and memory is in jeopardy but you can learn how he is dealing with it. I took my Mom to see him at Massy Hall just over 10 years ago when he was in his late 70's, early 80's. I am glad I did.
Barry Tripp
Bill 'Buddy' O'Hara
Posted On: Feb 5, 2021
It is with a heavy heart that we pass on the sad news that Bill "Buddy" O'Hara passed away this morning from a heart attack. Bill had been in a care facility for quite a while now, and unable to have visitors given Covid, which would have been very tough for Bill given how much he loved to be out visiting and entertaining. I believe Bill was 82.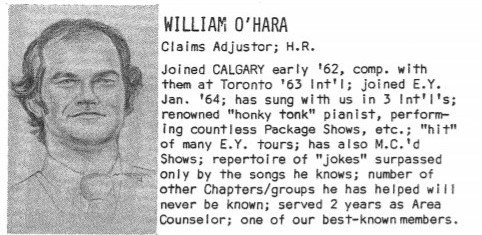 Bill was a Charter Member of Harmony Ranch and already a barbershopper before moving to Toronto in 1963 and joining East York. Bill was a very active member for many years, until his health made that a challenge. Bill was always available to lend his Tenor voice or his wonderful piano playing to any sing out or special occasion, and his quartet 3 1/2 Notes always donated 100% of their earnings to Harmonize for Speech.

Bill will be greatly missed by all who knew and loved him. Unfortunately there will be no formal service due to the pandemic situation, but we will keep everyone posted of any future plans to honour Bill.
Happy New Year!
Posted On: Jan 12, 2021
Happy New Year!
We're happy to see everyone back for our very first rehearsal of 2021! It's good to finally hear (and see!) familiar faces and catch up on happenings over the holiday weeks, despite being done remotely.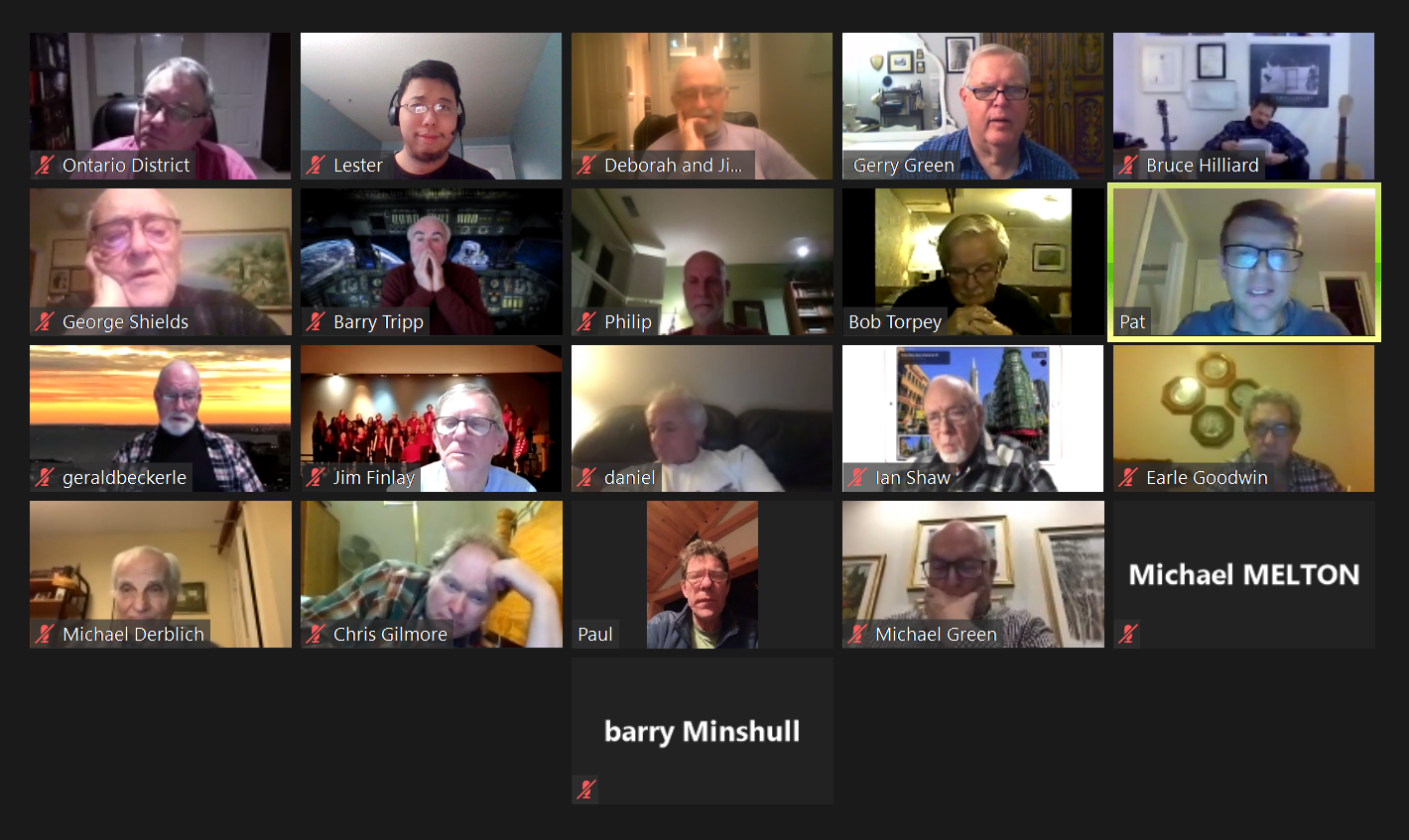 Our practice went off to a great start, instilling some much needed confidence for how we hope the rest of year will continue. I also loved the new things that we're attempting! It was very instructive to see Pat directing us across the songs we rehearsed, giving us a greater look into how we'd like our songs to flow.
Stay safe, keeping singing, and here's to a better 2021!
Happy Holidays
Posted On: Dec 23, 2020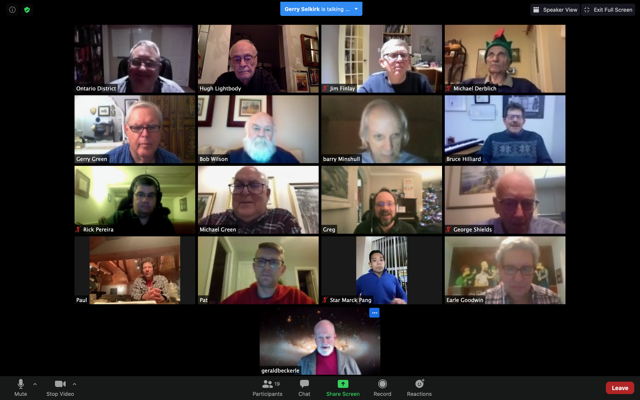 We bid goodbye to the most unusual of years at our last rehearsal for 2020 on December 15. We missed being together with family and friends, the traditional raffle and sharing some cake but, thanks to Zoom, we were still able to sing some seasonal songs and wish each other the best of the season. Also this year we added an exciting trivia game (won by Geoff Shields) and a possible new tradition that we'll call "the Watching of the Hippo". Of course, the highlight of the evening was finding out that our own Michael Melton has been named Ontario District's newest Barbershopper of Renown (see previous post).
Over the year we've truly missed the ability to sing together and perform in public. So we ended this year with hopes that everyone stays healthy, that our live performances will return and, as is the East York tradition, a chorus of "Have Yourself a Merry Little Christmas". We all look forward to better things for next year.