It's been more than six months of virtual practice at East York Barbershoppers (EYBS), and we've spiced it up this week with a joint virtual meeting with the City of Lakes Chorus (COLC) from Darthmouth, Nova Scotia!
About 37 members in total joined the meeting. The presidents of each chapter began with a welcome and brief introductions. Members from each chorus shared the history of their respective choruses and some of the traditional activites that couldn't take place this year because of the pandemic. It was helpful to share our struggles with each other, and join in the hope that things would improve in the near future - after all, without the pandemic, it was unlikely that our two choruses would ever meet, even if virtually.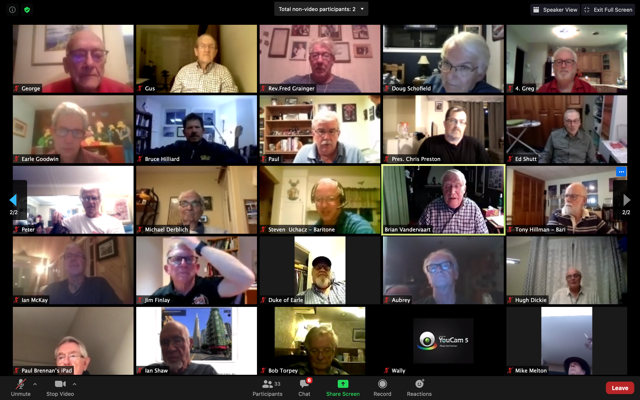 Both choruses shared videos of performances and contests from the past. Our International Chorus Contests and TV appearances were an eye opener for many of the newer members of the EYBS chorus. EYBS's proximity to many chapters in Ontario as well as the States made it easier to participate in District events; COLC found it more difficult due to the geographical size of the North East District.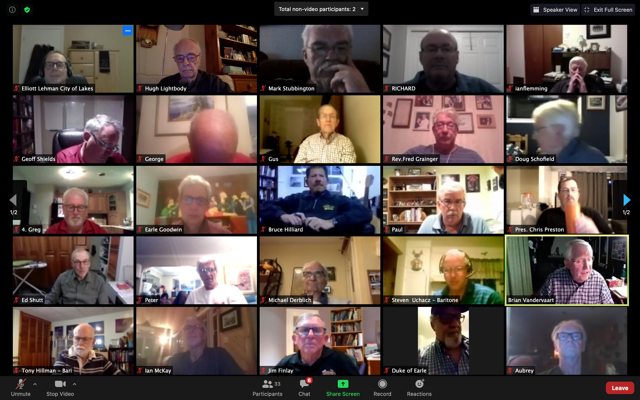 After the scheduled portion of the meeting was over, we spent time sharing common experiences. Many members from both choruses grew up and sung in the same town before moving apart and settling where they are now. Everyone agreed that it would be good to get together in person when the pandemic blows over. Hopefully a long "road trip" east will be in the cards in the future.
Jim Finlay