The East York Barbershoppers (EYBS) are a 40+ man chorus that sings close four part harmony in the barbershop style. We rehearse weekly, perform in shows and at community events regularly, and compete annually against other barbershop choruses from all across Ontario (and on occasion Internationally). Our members come from all walks of life and all across Toronto, and even from outside the GTA, but are brought together by a passion for this great hobby of barbershop singing. We also take great pride in serving our community through music education, outreach performances, and direct support for affiliated charitable organizations such as Harmony Hall Centre for Seniors and Harmonize for Speech.


Hear us sing:
A CARvellous Evening
Posted On: Jul 6, 2021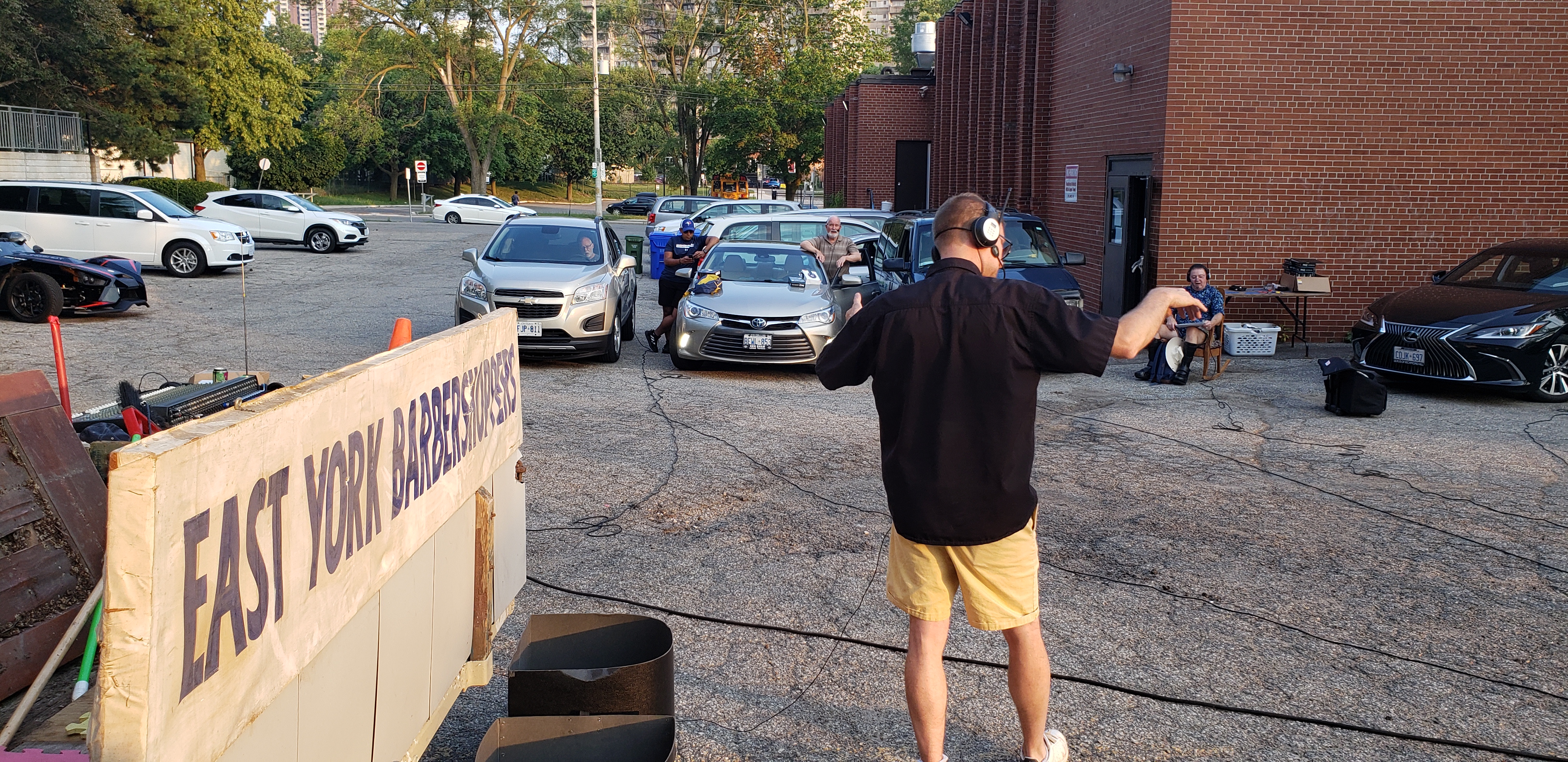 Photo - Barry Tripp
After 16 months away from being able to sing together, East York Barbershoppers finally got to ring chords together on July 6. While COVID-19 regulations wouldn't allow us back in our regular rehearsal space, thanks to the hard work and technical prowess of Michael Green and Barry Tripp, we were able to enter the world of what we affectionately call Carbershop – singing barbershop in our cars.
Though we haven't been singing together since March 2019, we have been getting together and singing via Zoom when it became apparent that the shutdown was going to be a long-term reality. Zoom rehearsals gave us the opportunity to keep in touch with one another and keep our voices in shape, but its technical limitations wouldn't allow us to hear how we actually sounded together.
Carbershop remedied this by getting rid of the lag that various hops between internet servers introduce while allowing us to maintain social distancing. We gathered in our hall's parking lot and plugged microphones into our new mixing board. No Bluetooth. No WiFi. Actual physical cables. The mixed signal was broadcast by a small FM transmitter which we tuned to on our car radios or on FM headsets. Any delay was small enough to be imperceptible. And because we were listening to a mixed signal, we may even have heard the other voice parts better than we normally do.
As hard as the singing drought was on the membership, it was torture for our director who had to completely rework his instruction methods without the benefit of being able to hear the results. So it was only fitting that our first Carbershop session took place on Pat Hannon's birthday. In his words, "Best birthday present, ever!" And everyone who attended enjoyed it as much as he did.
Bill 'Buddy' O'Hara Obituary
Posted On: Feb 9, 2021